As I'm giving these prints out for free, I can only run this offer for a limited time only. I don't want you to miss out, so grab your print today!
Hello! Rhiannon here!
Please take the time to read the information below before selecting your free print. It'll help you understand why I've decided to do this offer and clear up any questions you may have. Choose your print after reading the information
Why am I offering the prints for free?
Today, I would love to offer you one of my high quality A5 prints for FREE!
I've never done this before and I only have a limited number of prints available.
There are two colourful designs to choose from, both representing the beauty of Wales.
Even though I won't make any money from this offer, there are a few reasons why I'd still love to provide you with a free print.
I want to give you the chance to view the detail and vibrant colours in my work if you haven't come across it before.
If my free print offer can help brighten up just one person's day, then my job as an artist is complete!
Finally, it will hopefully encourage you to come back and ask for a larger print, or one of my other unique and colourful products.
Here are the designs you can choose from
Below, you'll find images of my two designs that I'm offering for free. Choose the design you're interested in and I'll aim to get it in the post as soon as possible. All I ask is that you cover the small postage and packaging fee of £2.99.
Some amazing reviews from amazing people
"I was blown away when I first set eyes on the wonderful work of Rhiannon. The colour and happiness that shines through all her work is amazing."
"All arrived quickly and in perfect condition. First class service. I love the colour, fun and vibrancy of Rhiannon's work. It really brightens up a room."
"I absolutely LOVE your work , my family is a huge fan of your bright and vibrant work . I can't recommend you enough to brighten the home and bring joy."
"We've bought 4 pictures to date, some as presents, we are really pleased with the interesting artwork and the use of colour the pictures are a talking point and really brighten up a room. Ordering is simple and delivery prompt. Thank you."
About Rhiannon Art
Rhiannon decided to build a career for herself as an artist in 2010, working from her studio in West Wales. Now living in Cardiff Bay, Rhiannon sells her original artwork all over the world and uses her designs to produce various products such as candles, coasters, placemats, prints and lots more.
Using her vivid imagination and vibrant colours, various sceneries are painted with a fresh and modern twist. She mixes reality with fantasy to create magical worlds. Rhiannon hopes that her work makes people feel happy, whilst helping to add a splash of colour to homes all over the world.
Last year, Rhiannon Art celebrated 10 years! Looking back over the past few years, Rhiannon has raised over £9,000 for many charities including Tŷ Hafan, NHS Charities Together and many other Welsh fundraising events.

As a small business, Rhiannon has worked hard to adapt her business during the lockdown and operates mainly online now, developing her website regularly.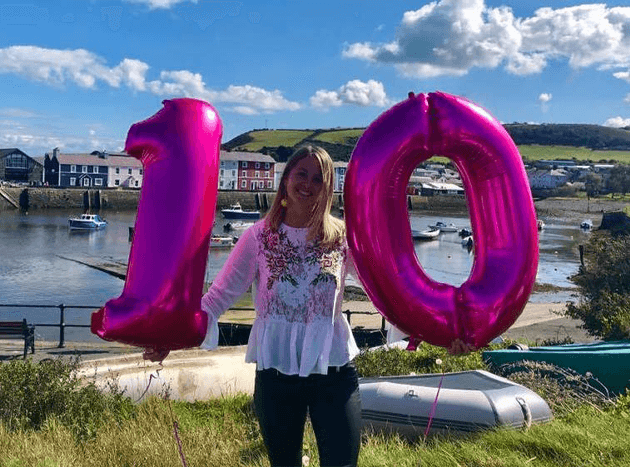 Rhiannon would like to thank her family, friends and customers for their continued support.
Questions?
We've Got You Covered
Are these prints mounted?
For this free print offer, these prints are not mounted. Once you order a free print, we will provide you with information on the best way to display your print.
Can I get more than 1 free print?
I'd love to give as many free prints out as possible but unfortunately, as a small business, I am unable to do this so we have to limit the free print number to 1 per customer whilst they're available.
Why are you giving away a free print?
By offering a free print, I'm hoping you'll see the detail that goes into my work and that you may want to come back and support my small business by ordering some more colourful products from me in the future. It also adds some much needed colour in our lives after the rough year we've all had.